Making money as a stay-at-home parent can be tricky; just finding ideas that are worth your time can be tricky but uh speaking of – who has the time to make money from home when you've got kids in need of your attention??
Now unless you're planning to run your own business (like I do, as a blog mentor!) I want to provide to you today my list of the top ten ways to make money as a stay at home parent without having to start up a website. These are ways I myself have made extra cash when needed, especially when I was desperate to quit my "9-5" job. That said, the following may contain affiliate links, which means I may receive commission should you click through to the product/service and invest or subscribe. This comes at no extra cost to you and in no way impacts my opinion of the company. Plus it helps fund my ever-growing coffee habit.
How to Make Money as a Stay-at-Home Mom
Get Crafty
Etsy is constantly growing as a platform and is a great way to make money if you're a crafty sort of person. Think about what sort of things you make that you friends compliment or what sort of products you'd absolutely love to show off to the world. Set your kids up with their own craft station to keep them occupied and then get to work. The possibilities are limitless! Just make sure it's something you love to do, because like any other task, if you go for money first, passion second, you'll probably find yourself burnt out before you even give yourself the chance to make a solid income.
Another option here that I've recently fallen in love with is Zazzle. With Zazzle, you can sell your own products (just like Etsy), but if you're an artistic soul, you can also publish your designs through Zazzle, set your royalty rates, and DONE! How awesome is that?
Watch Other People's Kids
Okay, I know this probably doesn't sound quite as fun as the tip above but it can be a great way to socialize your own kids while making a bit of extra money. Just make extra sure that your house is "baby proofed" and that you're incredibly clear with the parent paying you in what sort of house rules you have, what sort of food you'll be serving, basically anything you yourself would want to know were you leaving your own children with a sitter.
Type!
If you have a way with words and know how to type quickly, there are a number of ways in which you can make money from home. You can do closed-caption work for websites like Rev.com, do freelance work via Freelancer, or ghost writer for bloggers like me via TextBroker.
Click on Ads
Speaking of freelance sites, have you heard of Upwork Click? Now this site isn't going to necessarily make you a livable income from home like some of the other ideas I suggest, but it's easy to do and can net you a nice chunk of change each month. You're basically paid anywhere from $.001 to $.01 to click through to ads they present to you and you have to stay on the page for a set amount of time, typically about 30 seconds; now I know that doesn't sound like much but it's a mindless activity and if you spend 3 hours/day watching TV or browsing Facebook on your phone, you could do this congruently and earn nearly passive income – at least enough to fund your own coffee addiction!
They also have offers in which you can be paid for signing up – much like InboxDollars – but I can't validate the worthiness of those as I've yet to find anyway that appealed to me.
Sell Your Photos
Do you have a way with pictures? Head on over to Shutterstock and upload your photos! You won't get rich overnight but the revenue can quickly add up with little effort on your part. For example, I've made $8 with one shot I took of our state capitol building. It's obviously not a lot of money, but hey – it all adds up eventually!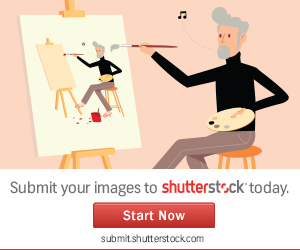 Affiliate Marketing
Okay I know I said this would be a list that wouldn't require a website but I'd be remiss to not mention this one – affiliate marketing!!
Affiliate marketing is something I mentioned in the disclaimer at the beginning of this post and many of my other posts – it's a way for me to collect revenue by recommending certain products or services I love. Notice I say: that I LOVE. No blogger should ever promote a product or service they themselves don't believe in. That said, my personal favorite affiliate platform is ShareASale, but there are many out there and it really depends on what sort of products or services you're looking to promote. The easiest way to get started is to make a list of the products/services you already rave about and Google "product + affiliate" and see what comes up!
I do dive much deeper into affiliate marketing as a part of my free Pinterest e-course so if this is something you're interested in, I highly recommend checking it out!
Create an Online Course
Next up – obviously you too could create your own course! Podia, Teachable and Udemy are all great options in terms of creating an online course. I wrote more about how I create/sell online courses, but if you've got a great idea that you know you can teach to others, there's no reason not to get it out there and starting sharing your knowledge! And once again, this can eventually become nearly passive income, which is an absolute must for those of working from home!
Sell Your Clothes
Whoa stop taking off your shirt, I didn't mean ALL your clothes. But if you have clothes – yours or the kids' – that are just sitting in the closet, making clutter and collecting dust, then perhaps it's time to get rid of 'em! You can sell through your local resale groups on Facebook, of course, but I recommend checking out Swap.com. They make it SO easy to send your stuff to them and then once it sells on their site, you get the cash. I love it! Plus if you find great deals at local garage sales in the warmer months, you can snatch 'em up and re-sell them for a profit. Great way to keep yourself in a steady cash flow all year 'round!
Shop Online
Okay, so maybe this one is a bit of a stretch, but it doesn't have to be! There are two ways to go about this:
Use

Ibotta

when shopping in-store to earn cash back on things you're already buying anyway: milk, bread, eggs, etc. The great part about this is that it will link to any store loyalty cards you have so you literally don't have to do anything beyond "unlocking" the discount and it'll automatically register once the purchase is made. I've been using

Ibotta

for about a month at the time of this posting and thus far have made $56. Not bad considering I spent all of maybe 5 extra minutes earning it! And if you use

my referral link,

you'll AUTOMATICALLY earn $10 after your first purchase. Doesn't get much easier than that!

Use Rakuten.

You'll see this being a reoccurring theme in many of my posts, not because they're paying me boatloads of cash to push them, but because I really do love this site that much. In just the past year, I've earned nearly $1,000 back. This past Black Friday, because I used

Rakuten,

I was able to get a crockpot, waffle iron, and griddle from Kohls and I actually MADE money doing so. How cool is that?
One other "trick" when it comes to Rakuten: when you do have to go out to shop, use "pick up in store" whenever possible. I'm a big fan of Lowe's but it can be SO easy to lose track of time (and money!) there, especially when my two toddlers are with me. So rather than risk spending extra money I shouldn't or losing the littlest toddler among the lawn mowers, I simply go online, order what I need through Rakuten, and pick it up at the service desk while I'm out running other errands.
Show Off Your Skills
Are you great at public speaking? Or perhaps you're fluent in French? Maybe you know how to crochet really well? Or you're the best muffin maker in all the land? Whatever your talents, there's no reason not to put them to use by teaching them to someone else! And I don't mean doing an e-course, as previously discussed, I mean doing 1:1 sessions, similar to tutoring but typically even more in-depth. For me, I work as an efficiency strategist and blog mentor. I teach people all about social media management, affiliate marketing, sales funnels, content strategies, time management – all the things that go into running a highly profitable, but not super stressful, online business. And you can do the same!
You don't have to get crazy with it, just start by outlining a program idea, use a free system like Calendly to allow people to book appointments, and go from there! You can hold these sessions via Google Hangouts or Skype, and it's a great way to make money on YOUR schedule while still having the time to focus on your kids and enjoy life as a whole.
Now there are of course other options that I didn't cover in this article – such as using the one survey site I recommend – but these ten should get you well on your way to making money from home.
Any other ideas I missed as far as making money from home?
Do you have any experience with these programs? Which is your favorite?