Questioning if HealthyWage is legit? Well check out this HealthyWage review and proof of payment from HealthyWage!
I myself won over $1,500 with HealthyWage after losing 60lbs in 9 months (with a buy in of $450!) It was obviously a bit of a gamble but I knew I could do it and goodness knows a big ol' check at the end doesn't hurt!

And today I've got my husband to tell us about he too was basically paid to lose weight! After having lost nearly 200lbs on his own, Tony used HealthyWage to motivate himself to lose another 50 – and received nearly $700 in return! I do want to note that while these HealthyWage reviews come from personal experiences, I do have links below that could earn me a commission should you click through and invest in yourself.
HealthyWage Review – It's Legit!
My name is Tony, and I run the website Fit2Father.com, a place where I've collected my experiences and knowledge regarding parenting and weight loss. I want to share what has personally worked for me to lose a total of 250 pounds. This includes my personal HealthyWage review.

Having struggled with being overweight my entire life, I finally decided enough was enough and did my research a few years ago, applying what I learned about diet and exercise to my life in order to drop 200 pounds, going from 450 to 250. This was great, but then I met my wife, and soon after, we had a baby boy. Things were great, but I gained a significant amount of weight back while my wife was pregnant. A sedentary job, coupled with a bad diet and lack of sleep put my back on track to gaining it all back.
Losing Weight with HealthyWage
After the birth of our second child, a daughter, I knew it was time to start dropping the weight again, but even though I had the children as a motivating factor, I still couldn't get everything to sync up in my head. I fumbled around with exercise and fell on and off the wagon of healthy eating. I couldn't seem to get a running start to weight loss. I needed something more, partly because I was a sleep-deprived zombie, but also because I'm easily distracted.
Part of my strategy when approaching weight loss – not just for myself but for people I'm advising – is getting as many motivating factors involved as possible.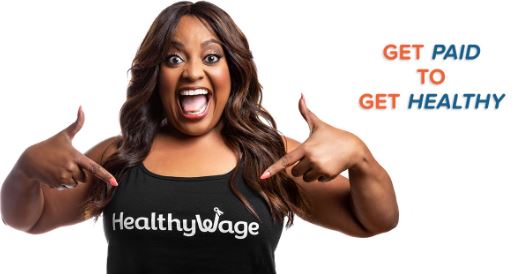 Motivating Factors for Weight Loss
Making your goals public knowledge – posting on Facebook, in groups, on forums, and using public exposure to motivate you, either through fear of public failure, or through the momentum of people seeing you succeed.

Track your daily feelings, gains, wins and losses, food, and exercise. As you see a downward trend in weight or a upward trend in fitness goals, you have a tangible, readily-available reference for how far you've come.

Make the time to engage in exercise, at least 15 minutes a day, every day, and vary what you do. It takes about 21 days of 15 minutes minimum for something to become a habit. Make it as easy as possible on yourself so you have no excuses: set your weights out in the morning. Make sure your exercise gear is clean and ready to put on when your alarm goes off. Pay for a month of daily gym classes in advance. Whatever it takes to get you moving every day.
Employing all of these factors, I was about ready to start getting in the best shape of my life, but it was in March of 2016 that I found the one last push I needed to succeed: HealthyWage
Is HealthyWage legit?
HealthyWage bets against your ability to lose weight. After signing up, you are asked to gauge how much weight you want to lose and how much time you think it will take you. Based on several factors, including age, weight, and how much you want to bet per month (this is a multi-month endeavor), HealthyWage will project the amount you stand to win, should you reach your goal in the specified time.
For me, I bet $50 over the course of six months and ended up with $676 for doing something that I wanted to do to begin with.
HealthyWage Proof of Payment
With a supportive community of like-minded individuals, easy-to-access customer service, and a fairly straightforward concept, HealthyWage was that last kick in the pants I needed to actually bring it all together and get focused.
I ended up losing 52 pounds by the end of my wager, going from 282 to 230 from April to September.
I still have a ways to go, with my final goal being around 200 pounds by my 33rd birthday so I signed up for another HealthyWage, this time teaming up with my wife to do a team challenge!
The motivation of winning money is fantastic, don't get me wrong, but more than anything, it's a feeling of conquering yourself. It gives a tangible reward for self-mastery, and at the end of it, you realize how good it feels to improve yourself, and what's more, that you CAN improve. You really are getting paid to lose weight!
HealthyWage Reviews
This HealthyWage review was a long time cmoing, but I'm so happy to share it. If you need a little bit of extra motivation, or a little fear at the back of your workouts to spur you to get that extra mile or that new personal record on your squats, HealthyWage is a great way to add a bit of extra incentive to something you've been wanting to do anyway.
So how about it – are you going to give HealthyWage a try?